Osbornes Law Ranked As Leading Law Firm In London
11 Oct 2017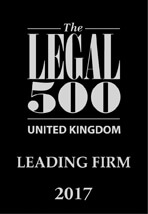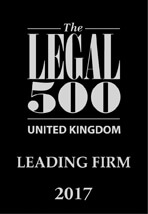 Osbornes Law has once again been ranked as a recommended London law firm in the 2017 edition of the independent legal directory 'The Legal 500' and has achieved a record number of 'recommended individuals' featured in the directory.
The family law department, which has featured in the directory for a number of years, was again ranked in the 2017 edition as a leading family law department in London.
Partners in the department, Bridget Thompson, Mark Freedman and Lisa Pepper are ranked as recommended lawyers in the 2017 directory.
The directory singles out Bridget Thompson for her 'excellent reputation for children work' and Mark Freedman for finance. He is also described as 'very ready to fight his clients' corner and this he does well'.
Lisa Pepper's exceptional dedication to her clients is highlighted with the directory highlighting that 'clients really have faith' in her.
Newly promoted Partner Joanne Wescott is a new addition to the directory and is described as a lawyer who is 'going places'. She is also ranked in a new feature of the directory as a 'next generation lawyer'. Legal 500 describes lawyers ranked in this category as rising stars.
Naomi Angell, head of adoption and surrogacy, is also recommended with the directory saying that she 'continues to be one of the most experienced adoption and surrogacy lawyers around'.
The firm's Personal Injury department was also ranked again as a leading firm in London representing claimants.
The directory describes the department as  fielding a team of 'strong practitioners' who are 'specialists in the field '.
The directory singled out the department's expertise in serious injury and high value cases, highlighting in particular the department's experience in cases involving catastrophic brain and spinal cord injury, neurophysiological damage, abuse, injury arising from road traffic accident and workplace accident claims.
The department is praised for its experience in  handling 'high-value accident and fatality claims', and is noted for its  niche 'expertise in cycle injury cases'.
Head of personal injury Stuart Kightley is described as 'a very strong and able representative for clients' interests'. Stuart is particularly noted for his expertise in claims involving brain injury and fatal accidents.
Stuart is also highlighted for his experience and specialism in handling cases involving a cycling collision. Stuart and the cycling team are the lawyers for the London Cycling Campaign (LCC), helping members who have been involved in cycling collisions.
Head of catastrophic injury at Osbornes, Ben Posford, is described as 'dynamic and impressive' and  'a star performer' who has 'expertise in severe spinal cord injury cases, including cauda equina claims.'
Stuart Kightley said "The department are very pleased with the comments received in the 2017 directory; our expertise in handling complex cases and working hard to achieve the best possible outcome for all our clients is a reflection of the dedicated team here at Osbornes. The results in the directory and our recent shortlisting for Claimant Personal Injury Team of the year at the Personal Injury Awards 2017 highlights the department's reputation and depth of experience and know-how".
Osbornes are delighted to also announce that the clinical negligence department was ranked for the first time in the 2017 directory and is described as 'a well-regarded niche firm' that provides 'an excellent personal service to clients'.
The department is noted for its experience in 'child and adult brain injuries, complex spinal injury and fatal claims.'
Head of the department Stephanie Prior is described as being 'highly experienced' and 'a very practical negotiator who drives hard to achieve a good outcome and has strong experience in birth-related injuries'.
Ben Posford is described as a lawyer who takes 'a creative and dedicated approach to claims of the utmost complexity'. His specialist experience in complex spinal cord injury and cauda equina cases was also singled out.
Also ranked once again is the housing team at Osbornes which is described as 'fielding experts in the social housing market'. The directory commented that the team at Osbornes is highly regarded for its tenancy deposit litigation expertise and also acts for clients in disrepair claims, possession proceedings, eviction warrants, community care-related matters, homelessness issues, anti-social behaviour orders and illegal evictions.
Partner William Ford is described as a 'a tenacious litigator with a lovely manner that, combined with intelligence, knowledge and pragmatism, makes him a pleasure to work with'. William is also ranked as a next generation lawyer.
Associate Manjit Mandair is singled out for being 'extremely committed' and lawyer Thul Khan is commended for being a 'a cool customer in a crisis'.
In total twelve lawyers at Osbornes were recommended in the 2017 directory.
For more information about the 2017 directory or to speak with a lawyer about your legal matter call us on 0207 485 8811 or fill in an online form.