Art fair by victims of brain injury raises almost £5,000
3 Mar 2020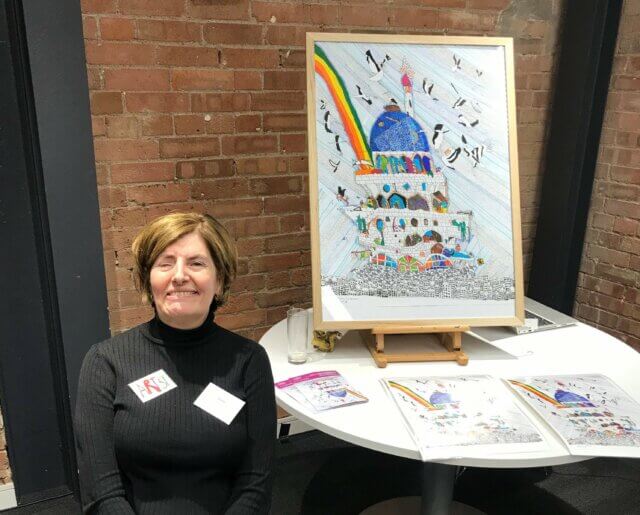 An art fair featuring the work of people who have suffered brain injuries raised £4,814 for Headway East London and their talented artists who work from their art studio.
Headway East London supports victims of brain injury and some were on hand to talk about their work at the offices of London law firm Osbornes Law on Thursday (27 February).
Stuart Kightley, managing partner at Osbornes Law, said: "It was an absolute pleasure to host this event and to showcase some wonderful work by these inspiring artists.  Our personal injury team have worked with Headway East London for a number of years and we have seen how empowering art is for many who have suffered a brain injury."
Sam Jevon, 51, from Enfield, who began creating work at Submit to Love Studios in 2009, was at the event. A mum of two, she began attending three years after sustaining a brain injury in a car accident, which affected her speech, dexterity, eyesight and balance.
She said: "I was a passenger in a 4×4 and I wasn't wearing a seatbelt. I was in a coma for three months. I think my brain injury has done me a favour in lots of ways because I used to be fiery – now I am calm and patient and you can see that in my artwork."
A completely self-taught artist, Sam is famed for her detailed line drawings, almost exclusively in black and white ink on paper. She visits the studio twice a week and has earned the nickname the "Queen of Wonky" for her unique illustration style.
She added: "Art has played a big part in my positivity – people always say how good my drawings are and that makes me feel very good about myself.  I never did art at school and before my accident I could only draw matchstick people. When people look at my art, I want them to know what can be achieved after a brain injury."
Tony Brooks, 52, from Camden, was just a young teenager when he sustained a brain injury after being hit by a car on his way home from school. This has affected his mobility, speech, and vision amongst other things. He became a member of Headway East London in 1998 and began drawing almost immediately.
He said: "My artwork is about drawing – it helps me to concentrate and control my hand. I like to draw horses and animals. I sell my artwork for myself; it gives me some independence, pride and confidence to do something for myself as I can't do much else."